Pet Portraits
I have actually admitted to liking dogs more than people. As a result, I try to see people in dogs. They are the better part of us--playful, energetic, silly, loving and ever so expressive. Pets are without reservation or entitlement. That's not to say that some don't have an attitude, like Bailey Ferrell or Crockett Weismiller. In addition to dogs and cats, I have been commissioned to paint horses, pot-bellied pigs, hamsters and an occasional ferret. Can you guess my favorite subject?
Hot Dogs
This is one of my favorite paintings. It is large--48X60--and hangs in our dining room. Featured are my three girls, Biscuit, Chessie and Maggie. They are relaxing in the pool, surrounded by fire hydrants and pool toys. See My Bad Girls for more detail on this trio.
Woody Creek Bailey
Who knew that Bailey would be such a popular name for a dog? This Bailey belongs to my friend Wheatie. Bailey resides in Woody Creek, CO, and tends the grounds of the Painted Pig. She is an Australian Shepherd mix and loves her raw bones.
My Sunshine
Chessie is painted here surrounded by sunflowers. She was my sunshine. In her mouth is one of her favorite toys--a duck, which produced a repeating duck noise when squeezed. Her favorite time to squeeze the toy was during one of my work conference calls. She was definitely CEO material.
Bailey Ferrell
Ah, don't get me started on Bailey. She is a wonderful small beagle with a very large attitude. She belongs to my daughter Betsy, but during Betsy's college and Prague years, Bailey spent a lot of time with Grandma. When she lived with me, she especially liked the top of the dining room table, where she could easily multi-task by watching chipmunks and eating leftovers simultaneously. She also loved to be chased around the house and yard just when I had a train to catch.
Breakfast at Brendan's 101
Meet Maya and Zoe, frequent diners at Brendan's. Maya lives with her owner in Rowayton and runs down for breakfast while her owner bikes. She sits patiently waiting for a nibble or two.
Maya is an Australian Shepherd with one blue and one brown eye.
Brendan
Brendan belongs to our minister friend Paul, which explains why he is wearing a collar with the Episcopal church emblem. Brendan now lives in Bridgeport, and this painting was a going-away gift for Paul and Cherise when they moved from St Luke's in Darien. We miss all of them.
Kiwi
Kiwi belonged to friends in Gibson Island, MD before he went to heaven about a year or so ago. This painting was done as a wedding present for Terry and Gail last summer. Wyatt is their new furry family member, but no one can ever replace the memory of sweet Kiwi.
My Bad Girls
Where do I start? At one point we had three female dogs, Maggie a rescue Springer Spaniel, Biscuit a very large and not especially smart Springer Spaniel, and one of Biscuit's daughters--Chessie. Chessie's father was Gus, a yellow lab, and Biscuit, after a hot date with Gus, produced 10 all-black puppies. Go figure.
This painting depicts the three dogs with all the objects they consumed over the years--Mont Blanc pens, eye glasses, remote controls, shoes, toys, etc. The note reads:
Dear Stuart-- Sorry we ate your stuff. If you fed us more better real food, we'd behave. Maybe.
Thoughtfully, your girls
Lucky
Lucky is a pitbull mix, belonging to my friend Dini. She now lives in Old Lyme, CT.
What's a Girl to Do?
Miss Crockett is our pudle that we adopted from Adopt-A-Lab. Yes, you read that right. There is some confusion about her pedigree, but the rescuers thoughtfully narrowed it down when they noted that she is probably "some mix of dog and poodle." Crockett joined us the end of October 2012 and has been my constant companion ever since.
She is covered with ribbons and a small tag reading" All dressed up;
nowhere to go," hence the title, What's a Girl to Do?
Tempest
The couple who commissioned this portrait wanted their black lab pictured on their sail boat, Tempest. The background is Darien, CT.
Chessie Girl
My Chessie Girl left us three years ago at age 14. I still miss her today. She, like her Mom, had a fetish for shoes--usually the left one, and would leave the other hidden under a bed, in the yard or in the closet.
It took me almost a year to be able to memorialize her, but this portrait makes me feel a little better that it really was time for her to "go home" as they say in the South.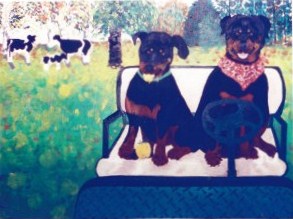 Rotties on the Back Nine
This painting was commissioned by a couple from backcountry Greenwich. They wanted their two Rottweilers posed sitting on a golf cart, with apple trees and cow statues in the background. You can't make this stuff up.
Lilly and Chuckles
Two wonderful Jack Russell Terriers from Richmond, VA. They are actually cousins, belonging to John and Margaret Ferrell.
Abbott
Abbot was a wonderful yellow lab belonging to my friends Nell and John Otto in Greenwich. Abbot is pictured here decked out in Fourth of July bunting. Under her paw is the wedding invitation for the Otto's daughter, Blair, since I did this as a wedding present for Blair and her new husband, Craig.
Grits and Friend
Grits Rawls was a Westy of significant note, belonging to Ma Lou and Waite Rawls. Grits spent most of the time on Park Avenue in NYC and on weekends in Cornwall, CT. Quite the cosmopolitan dog, with deep Southern roots.
Miss Daisy
Miss Daisy Toplyn is a Katrina rescue who lives and works in Harrison, NY with her parents Sherry and Joe and her brothers Andrew and Jeffery. She has an extensive sweater collection, and especially likes barking at squirrels, UPS drivers, and...everything really.
Maxime and Irma
Maxime and Irma are two wire-haired dachshunds who live in Holland. I painted them for Niels, their un-furry (i.e., human) brother who lives in CT and misses them dearly. According to Niels, these two double as a purse-snatching team, who like to take their mother's Gucci handbag into the yard, empty the contents and look as if nothing has happened.
Those are dachshunds for you!
Miss Molly
Miss Molly is the self-appointed queen of Crockett Street. She can be seen rapidly pacing back and forth in front of a short fence. If you stop to say "hi" she will immediately roll onto her back for a tummy rub. She always has something to say about the goings-on in the neighborhood.
Alex De Sole
Alex belonged to the then CEO of Gucci. Hence the shoes and pocket book. The family loved to ski and play sports.
Dog Days Store
This was a commission, by a store called Dog Days, to hang behind their checkout counter.
Sebastian
Yes, I do paint cats. This was done for my niece, Rebecca from Baltimore for her birthday. Sebastian is surrounded by items of meaning to Rebecca.
Milkshake Dale
Can you imagine a dog named Milkshake? Leave to my friend Kit Dale in Baltimore! Milkshake, a Bichon, is pictured making both a milkshake and a mess. The background reads: Forget Milkbones, Gimme a Milkshake.